I'M REALLY EXCITED ABOUT THE PUBLIC LAUNCH OF ARVO CHURCH NARRABEEN!! IT'S THIS SUNDAY (10TH MARCH 2013) FROM 4PM AT ST FAITH'S ANGLICAN CHURCH, CLARKE STREET NARRABEEN.
WWW.ARVOCHURCH.COM // FACEBOOK EVENT // ALL WELCOME!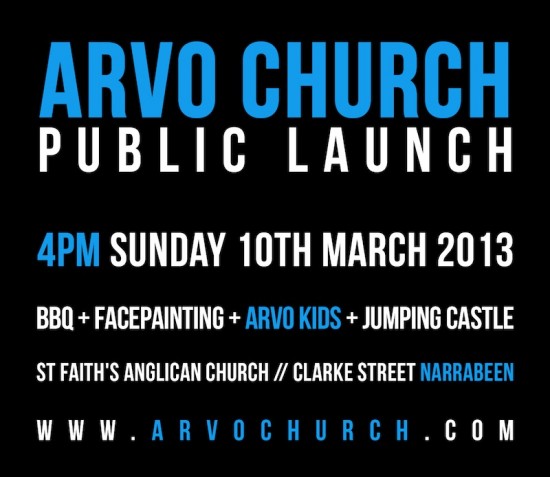 12 months ago St Faith's Anglican Church Narrabeen began a new Sunday afternoon church. It was pioneered under the leadership of Ben Molyneux with a core team of less than 10 adults. It has grown to about 40 adults each week. I transitioned into the leadership of this new community at the end of 2012.
Over the last few months as Arvo Church has continued to grow we have felt that it would be good to "go public". What will change? Not much. We'll keep doing the same things. But we're convinced that we have the best possible reason to gather. Jesus loves us and Jesus has gathered us through his death and resurrection. So we want to make some noise to let people know about our Him!
Arvo Church will grow naturally as Gen Y have kids and as young professionals keep moving into the area. But we are keen to see it grow by mission as well. We are seeking to reach out to our local community: neighbours, colleagues, surf life saving clubs, schools, cafes and markets.
In January we did a series called LOVE THE BEACHES (see overview of basic idea and talk 1 here). We're using some of this teaching to help drive our local mission push.
Please pray for us! (You are more than welcome to attend the launch… or keep coming if you're local).
We've done some marketing via SMS, email, web, facebook, facebook advertising, postcards, business cards, letterbox drops, street chalking and word of mouth. See below for our postcard (the business card is similar).