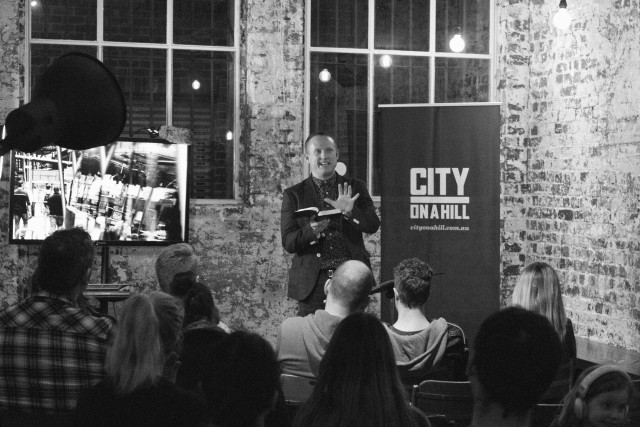 Hey Friends!
Our family have been thinking and praying for over 10 years about the opportunities for reaching people with the good news of Jesus through church planting. God used the vision & supporters night of another church plant as one of the final things to compel us to step out in faith.
After listening to our good friends, Matt & Tash Sparks, share the vision for Anchor Church Sydney, we were inspired! Not to join their team, as good as that would have been, but to do likewise and one day to lead a team in reaching new people and new generations through a new church in a new city.
That day is fast approaching!
We have recently hosted 'City Vision Brisbane' events in Melbourne (see photos) and Brisbane (see photos). I'm so thankful for the support that we've already received. People are keen to pray, keen to give and keen to join! Praise the Lord!!
CITY VISION BRISBANE ~ IN SYDNEY
This Thursday night, 24 September, we will be hosting the final 'City Vision Brisbane' event in Sydney's CBD at Barneys Broadway. It's from 7pm and we will be serving light food and drinks. We trust that God will continue to raise up more people to partner with us through praying, giving and joining.
Perhaps God may even use this night to inspire someone else to be part of His mission in the world through church planting!
GIVE THANKS FOR…
– City Vision Brisbane events and people keen to pray, give and join
– The gospel-hearted generosity from local Brisbane Pastors like Nathan Campbell. See his Eternity Newspaper article 'Why I can't wait for City On A Hill Brisbane'.
PLEASE PRAY FOR…
– I will be heading to the USA for a couple of weeks for church planting preparation. Pray that I will be well equipped and that God would sustain Rowena in caring for our family while I'm gone.
– Our final 4 months in Melbourne and logistics around moving to Brisbane
FOLLOW THE JOURNEY
– City on a Hill Brisbane accounts: Facebook, Instagram, Twitter and Web.
– My own personal accounts: Facebook, Instagram, Twitter and Web.
SPREAD THE WORD
Do you know people who we can connect with in Brisbane? Please help make it happen!
Do you know people who would love to pray for this venture? Please pass on this Newsletter. We've grown from 165 prayer partners in our July Newsletter to 345 prayer partners in this one.
SUPPORT THE MISSION
For those partnering with us financially, thank you!
Internet Transfer
Account Name: City on a Hill
BSB: 193 879
Account Number: 431 944 214
Credit Card online
Visit http://cityonahill.com.au/give
(choose Brisbane in the drop down menu)
Keep trusting Jesus,
Dave Miers.