In Vanuatu, my main responsibility was to lead the group Bible study each day. It was such an encouraging time! The Schoolies were a solid bunch of Christians and so they loved spending time in the Word as a large group, in smaller groups and in quiet times. The series we did was called "Don't Waste Your Life". The aim was to think through how to spend the rest of our lives by investing in things that matter. While some material was borrowed from John Piper's great book by the same name, it was more or less a study of Ephesians and what it says about God's purposes for his people.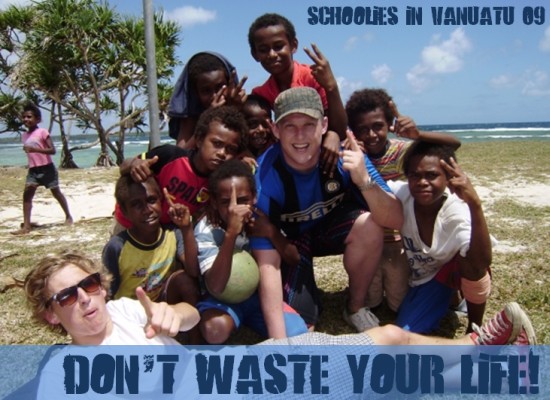 Ultimately the series is all about Jesus. God is at work in the world to bring all things under the rule of Jesus (Eph 1:9-10). A life on purpose is a life lived trusting in and living for Jesus. I was personally encouraged to "Remember Jesus Christ, raised from the dead, descended from David, this is my gospel…" (2 Timothy 2:8) Here are the MP3s:
Here's a training session I did too: Encouragise, Empathise, Evangelise
Were you on Schoolies? Let us know how you were encouraged and challenged. Got any questions? Leave them in the comments or contact me.
This is the 3rd time I've done this series. Here's one and two. I think it improved!