Bible Society Australia have a killer campaign this October to help lift the rates of Bible reading among Aussie Christians. I've had the privilege of working with Bible Society in producing a website and set of 16 videos as a reading guide through Mark's Gospel. JESUS' EPIC STORY is useful for mature Christians, new Christians and those investigating Christianity. While it is targeted at a younger audience, I think it's suitable for all ages.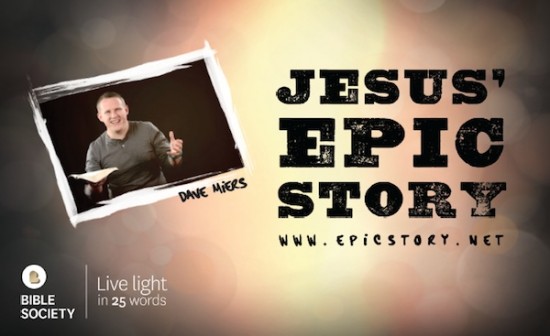 Above and below is a promo postcard that Bible Society produced for follow-up after RICE RALLY. Each of the 16 videos give a brief overview of each chapter of Mark's Gospel. There is also a full-text PDF that could be used as a reading companion.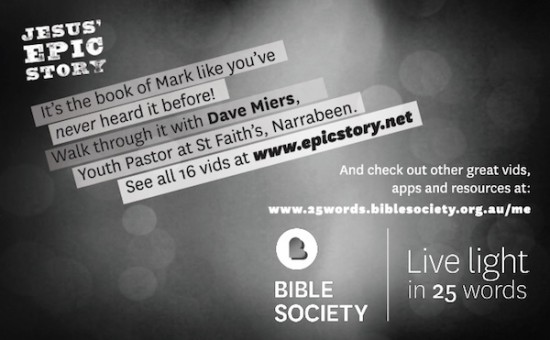 EPICSTORY.NET is one of the places that you can view the videos.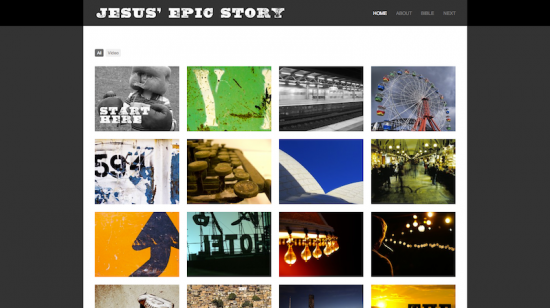 The Bible Society 25 WORDS Campaign site also has them profiled on their main page.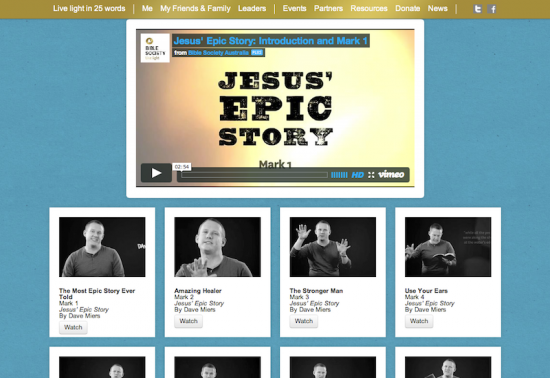 I'm really encouraged by the vision of Bible Society Australia to produce resources that help people sit under God's Word. Tim Robinson from Worldview Productions did a killer job in behind the scenes.
I really hope that they will be useful for many people to get to know Jesus better from the Bible. I also hope that it will be a resource used long after the 25 Words campaign.
Here are 4 ways I'm planning on using them. These could be helpful ideas for other Youth Ministers or Christian ministry leaders.
I'm going to post the 16 videos on this blog and our youth ministry website for the first 16 days of October. I will be encouraging our youth community to read along in Mark's gospel and any interested blog readers and friends via social media.
When we run Christian camps for young people we allocate time each day for HANG TIME WITH GOD (or Quiet Times). The hope is that they will begin to develop good Bible reading habits on the camp. I plan on advertising JESUS' EPIC STORY in camp booklets as material that could be read post-camp.
I regularly give evangelistic talks at my church and other Christian events. I'm planning on having the postcard above as part of the follow up pack for those who respond to the Gospel.
I'm not sure on the frequency, but I hope to direct contacts via social media to the website to learn more about Jesus
Finally, at SOULIES we have recently begun giving out HELLO PACKS to new people. JESUS' EPIC STORY will be one of the things that we will also put in the packs.
Have you got any other ideas? I'd love to hear them.
Here's video 1:
The campaign starts in October… but there's no need to wait until then! Click here to start today…
Click here for more Bible Society related posts…
Click here for more youth ministry related posts…