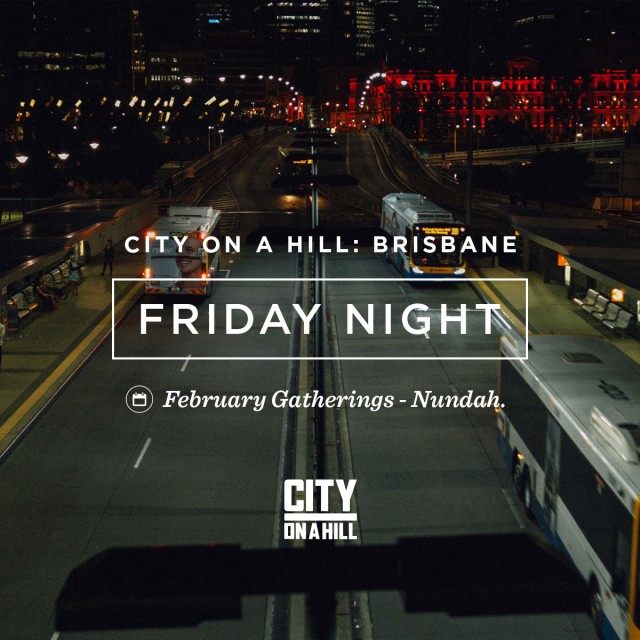 Dear Friends!
2016 has arrived… and our family has also arrived in Brisbane! We love this great city and are so excited to see what God will do through City on a Hill: Brisbane as we seek to know Jesus and make Jesus known.
FRIDAY NIGHT GATHERINGS
To get the ball rolling we will begin gathering together on Friday nights during February.
February 5 – at our house in Nundah
February 12 – at our house in Nundah
February 19 – at our house in Nundah
(email brisbane@cityonahill.com.au for the address)
February 26 – if you're available we'd love you to come down for the Friday night session of the Acts 29 Healthy Churches Conference on the Gold Coast (likewise, the whole conference will be excellent if you can make it.)
FRIDAY NIGHT FLIGHT PLAN
HANG OUT from 5:00pm
No worries if you can't make it this early! If you can make it, it will be a great opportunity to unwind after the week, get to know others over a cold drink. You can also cool off in the swimming pool.
DINNER from 6:00pm
We'll be sharing dinner from 6pm and if you're able to help provide food on the night, please let us know via brisbane@cityonahill.com.au
GATHERING from 6:45pm
This will be a significant time as we open God's word, pray for the city, hear more about the vision ahead and continue getting to know one another. We'll have a kids program running during this gathering.
KICK-ON from 7:45pm
For those who don't need to get home (to get kids to bed etc) we will kick on! On different weeks this will include: hanging at our house, going into the City, heading to the movies, etc.
Can you let us know if you'll be there on Feb 5? Email brisbane@cityonahill.com.au for the address and RSVP on the Facebook event.
HELP SPREAD THE WORD
We'd also love your help in getting the word out. Do you know someone who might be interested? Invite them along by forwarding this email. Keep an eye out on our official social media accounts: Facebook, Instagram and Twitter. As well as my personal accounts: Facebook, Instagram and Twitter.
WHEN DREAMS COME TRUE – THE STORY OF JOSEPH
How would you endure over a decade of slavery in a foreign country? No friends, no family, nobody who knows you – how would you hold yourself together in that kind of loneliness? Would you despair? Would you sustain hope? Would you trust in the God who divinely appointed you as a boy?
When Dreams Come True is the new series by City on a Hill exploring the final chapters of Genesis that tell the extraordinary story of the life of Joseph.
From pit to palace, Joseph's life is marked by uncertainty, betrayal and grief, yet remarkably he trusts God who is with Him and weaves all things together according to His plans.
City on a Hill: Brisbane will be joining in with the rest of City on a Hill (Melbourne, Melbourne West & Geelong) in teaching through Genesis 37-50 and the life of Joseph. This will begin at our first Friday Night Gathering on Feb 5. View the trailer online.
FINANCIAL PARTNERSHIP
We continue to thank God for those who have already begun financially supporting this mission. Would you consider partnering in this way? Whether that is a one-off donation or ongoing support, it can be done via this page: cityonahill.com.au/give – click 'Brisbane' in the drop down menu or you can also find the Brisbane bank account details.
Thankful for your continued support.
Keep trusting Jesus,
Dave.
p.s. – Have you seen our latest UPDATE VIDEO? Click here.