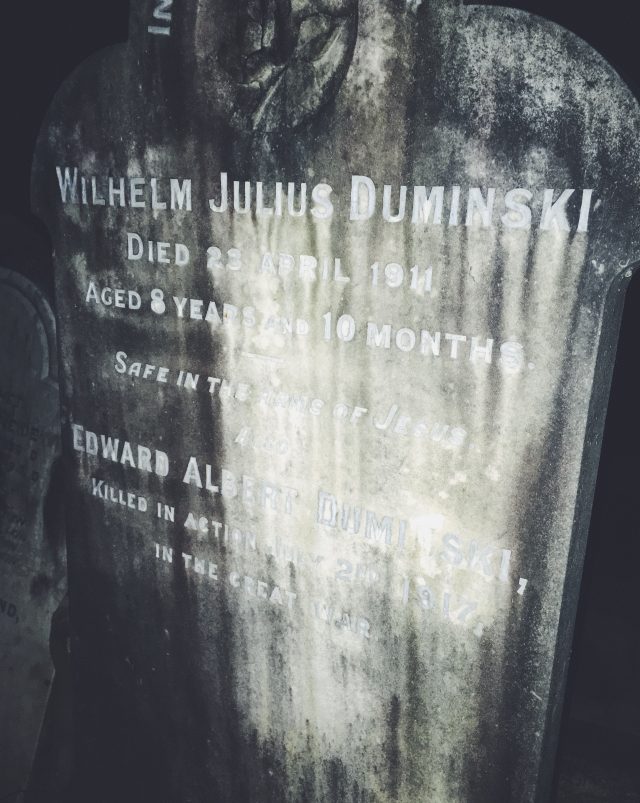 Last night was a night of contrasts. Our Gospel Community shared food, laughter and life around the dinner table. Then we visited a local cemetery.
"It is better to go to the house of mourning than to go to the house of feasting, for this is the end of all mankind, and the living will lay it to heart. Sorrow is better than laughter, for by sadness of face the heart is made glad." (Ecclesiastes 7:2-3 ESV)
We spent time reflecting on Ecclesiastes 7 & 9… and it was a profound time of being confronted with death as we also pondered the inscriptions on tombstones.
Wilhelm Julius Duminski died in 1911 at the age of 8 years and 10 months. My eldest son is 7 years and 10 months. I don't know the circumstances of Wilhelm's death, but I can only begin to imagine the grief of losing a son so young, and then losing another son in 'The Great War' 6 years later.
But I love the glimmer of hope that the gospel brings in midst of the darkness of death:
"SAFE IN THE ARMS OF JESUS"
In Christ Jesus, we have one who has taken death on on the cross, gone to the grave, and then been raised in victory. Death no longer has the final word. For all those who are in Christ Jesus, we have hope beyond the grave.
Run to Jesus in this life, and when we face our own death, it will not be the end. We too will be safe in his arms.
"When the perishable puts on the imperishable, and the mortal puts on immortality, then shall come to pass the saying that is written: 'Death is swallowed up in victory. O death, where is your victory? O death, where is your sting?' The sting of death is sin, and the power of sin is the law. But thanks be to God, who gives us the victory through our Lord Jesus Christ." (1 Corinthians 15:54-57 ESV)