Crazy stuff happening in Egpyt! Last night after Mubarak said he wasn't going to let go of the Presidency I tweeted this: "the current leader of egpyt seems almost as stubborn as the guy who lead the country 3500 years ago when the Jews were in captivity!"Waking up this morning, the news was different. He'd handed over rule to the military. Pretty significant stuff after a month of protesting and 30 years in power. John Piper tweeted this earlier: "In Egypt's 5,000 years as a unitary state, these people have never been able to choose their government before." (BBC) After 5000 years, there'll be big changes ahead.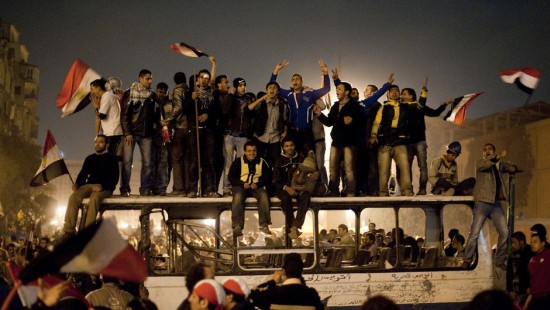 Every revolution needs people to stand on a bus in celebration! (Pic taken in Tahrir Square) There are lots of amazing photos on news and social media sites that help to capture the emotion of such momentous news. Facts about Egypt to pray from.
Find out about an even more amazing revolution here.