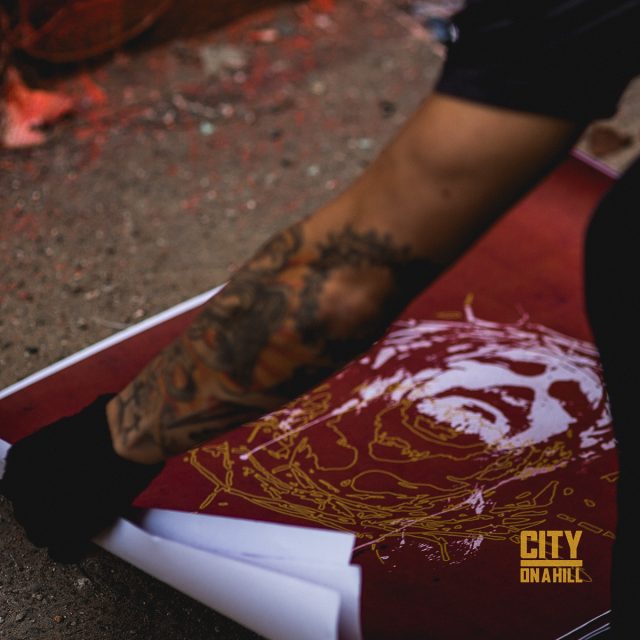 Joel is a rifleman in the Australian Army and in 2015 he moved to Brisbane to be based at the Enoggera Barracks. He's been part of our team gatherings from the start. One of his colleagues, Jason, noticed that Joel had been leaving the base at the same time every Friday night.
When confronted, Joel was able to share something of his trust in Jesus and he invited Jason to come and join in a City on a Hill: Brisbane Friday Night Gathering.
Jason went to a Catholic school, but had never understood the significance of Jesus in his every day life. His third visit coincided with the launch of The Revolution of Man, our new teaching series in Mark's gospel. In chapter 1 Jesus said, "The time is fulfilled, and the kingdom of God is at hand; repent and believe the gospel." (verse 15)
In response to this challenge from Jesus, Jason turned to put his trust in Christ! Good news, right? It's been such an encouragement to see him grasp hold of what Christ has done at the cross and the implications for all who come after Jesus.
Jason said that it's a real joy to now 'have hope that there is life after death through Jesus'.
I love seeng the way that God has used Joel in Jason's life, and also another team member, Scott, who has already begun discipling Jason to grow strong in the Lord.
Please join us in giving thanks to God for his kindness to Jason in the gospel. Ask God to save many more as Jesus is made known in Brisbane!
THE MONTH AHEAD ~ JUNE 2016
GOSPEL COMMUNITIES
This weekend, in place of our normal Friday Night + Sunday Morning Gatherings, we are launching 4 new gospel communities. These are smaller communities of life, love and mission that will meet all across the city and suburbs. Our hope is that the launch this weekend will be a great time of relationship, celebration and expectancy.
Friday night 3 June in Enoggera, and
Sunday morning 5 June in Clayfield, Hawthorne, and Wellington Point (this group will normally be based in West End).
These groups will ordinarily be meeting on Tuesday or Wednesday night (commencing 14 & 15 June). All the information for Gospel Communities can be found on our Facebook page. Please let me know if you'd like me to forward the GC email that went out to all those who signed up.
FRIDAY NIGHT + SUNDAY MORNING GATHERINGS
Our June Friday Night Gatherings will restart on June 10 at Primal Pantry Nundah (cnr Aspinall St + Station St) from 6:15pm.
Our June Sunday Morning Gatherings will restart on June 12 at our house in Nundah (email brisbane@cityonahill.com.au for the address). Coffee from 10am, City Kids check-in from 10:15am, and Gathering from 10:30am. If you can stick around for lunch afterwards, please bring something to share.
THE ENGINE ROOM
"Unless the Lord builds the house, those who build it labour in vain." (Psalm 127:1a) The Engine Room is an opportunity to come together each month to earnestly pray that God would build something that lasts in and through City on a Hill: Brisbane.
We will be gathering together to pray on Wednesday June 8 from 730-900pm at Cara's House in Sherwood (email brisbane@cityonahill.com.au for the address).
FINANCIAL PARTNERSHIP
We continue to thank God for those who have already begun financially supporting this mission. Would you consider partnering in this way? Whether that is a one-off donation or ongoing support, it can be done via this page: cityonahill.com.au/give – click 'Brisbane' in the drop down menu or you can also find the Brisbane bank account details.
Thankful for your prayerful partnership.
Keep trusting Jesus,
Dave Miers.