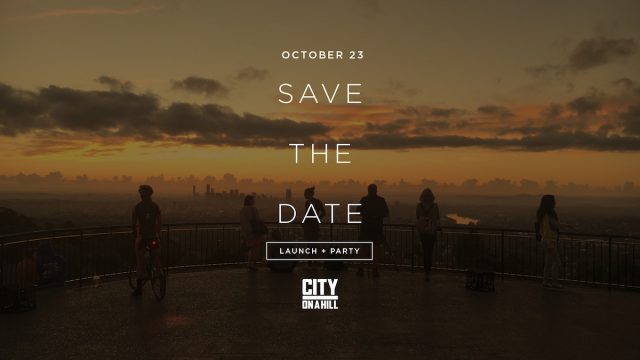 In February, we began gathering people together in our lounge room to open the bible, pray, and dream about what God might do through this new church. After outgrowing our lounge room, we moved into a local cafe, and then in time into an old church building just outside the City.
But we believe that now is the time to invite the rest of Brisbane along. We have a launch date!
LAUNCH: OCTOBER 23
Sunday, October 23 marks the opening service for City on a Hill: Brisbane! This date coincides with the 9th Anniversary of City on a Hill and to help launch this new chapter we will celebrate after our service with a launch party.
More details to come, but for now, please save the date!
PRAYER REQUESTS
Give thanks for the provision of meeting spaces for our team gatherings
Give thanks for lives already changed by the good news of Jesus
Give thanks for ongoing support of City on a Hill team in Victoria
Pray for final negotiations with Brisbane CBD launch venue
Pray for unity and joy in our new Sunday Service ministry teams
Pray that the lost will be reached with the light of Christ
TEAM GATHERINGS
Our Sunday Team Gatherings will continue to meet between now and our launch on Sundays from 10:30am at 58 Maygar Street, Windsor QLD 4030 (City Kids check-in from 10:20am).
FINANCIAL PARTNERSHIP
We continue to thank God for those who are financially supporting our mission of knowing Jesus and making Jesus known in Brisbane. Would you consider partnering in this way? Whether that is a one-off donation or ongoing support, it can be done via this page: cityonahill.com.au/give – click 'Brisbane' in the drop down menu or you can also find the Brisbane bank account details.
Thanks for your support.
Keep trusting Jesus,
Dave Miers.