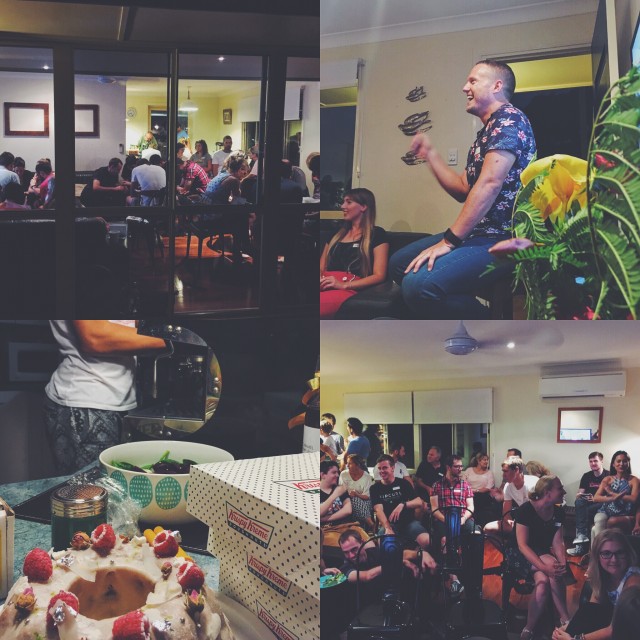 Hey Friends,
Thanks so much for your prayers, support and well wishes over the last week. Praise God we had a great week at our first FRIDAY NIGHT GATHERING! Really solid turn out, good food, great conversations, quality time in the word and expectant prayer for the mission ahead. Check out this short highlights video.
FRIDAY NIGHT GATHERING – WEEK 2
We are meeting again this Friday night (12 February). We'd love your ongoing prayers that God would continue to prepare us for knowing Jesus and making Jesus known in Brisbane.
Do you know someone in Brisbane who'd be interested in coming along? Please pass on this information. Details of the event can be found on our Facebook event.
ACTS 29 HEALTHY LEADERS CONFERENCE
City on a Hill is part of the Acts 29 church planting network. The upcoming national conference is taking place on the Gold Coast from 25-27 February. A number of people from City on a Hill: Brisbane are planning on attending. We'd love you to join us! The price goes up for the conference tomorrow… so today is a good time to register.
For those that can't come to the whole conference, please come to the Friday night session (26 February). We have a significantly discounted rate (email brisbane@cityonahill.com.au for the discount code) for the evening.
The program is from 7-9pm, including a panel with Church Planters and preaching from Pastor Adam Ramsey. Afterwards, there will be an opportunity to have coffee and desert with Pastor Guy Mason and other members of the City on a Hill Melbourne staff team.
Thanks again for your ongoing support.
Grace and Peace,
Dave Miers
SUBSCRIBE TO NEWSLETTER | FINANCIAL SUPPORT | INSTAGRAM | FACEBOOK