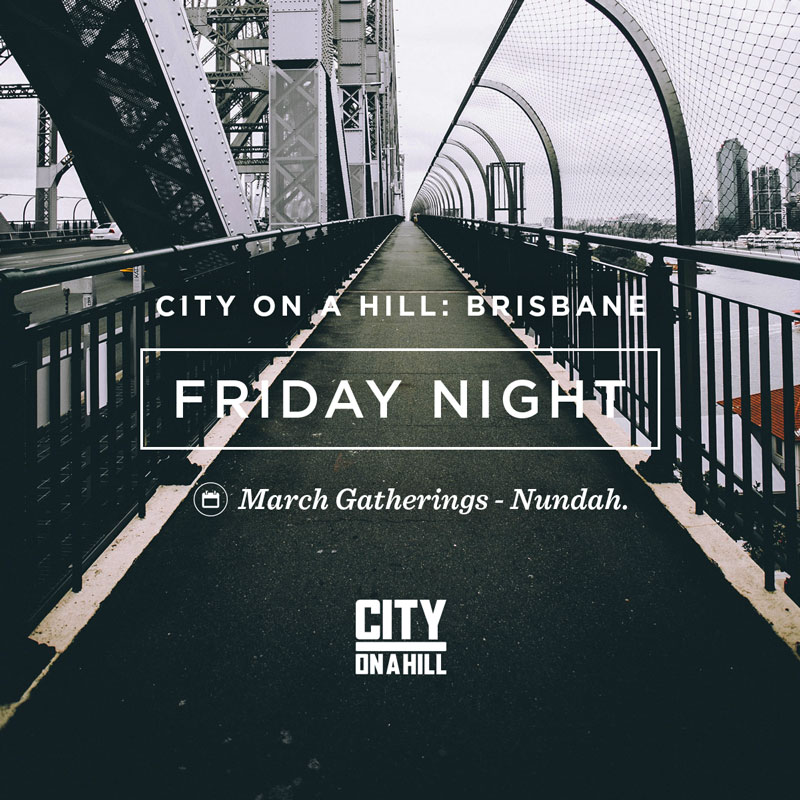 Hello Friends!
GOD IS ON THE MOVE
God has been so kind! One month into our Friday Night Gatherings, we can already see God's hand at work. It has been a joy to see people welcoming one another into this new community, sharing good food, hearing God in the scriptures, and praying boldly that Jesus would be made known in Brisbane and beyond.
Here's what some of our team have said about our gatherings…
"It was an awesome night! There was a great energy there which was clearly the Holy Spirit doing his thing. Backed up by a great word from the gospel. I can't wait for next Friday night."
"Everyone I met seemed very keen on building City on a Hill and making something special."
"I loved that the word was brought as central even to the first gathering, and I loved the application of God working in a broken world and ending with prayer."
"We are excited to see what God has planned for City on a Hill: Brisbane and are keen to be part of the journey. We love the passion and generous spirit demonstrated already in this community."
Please join us in giving thanks to God for the past month and praying that he would continue to raise up a team of men, women and children to be part of knowing Jesus and making Jesus known through City on a Hill: Brisbane.
THE MONTH AHEAD ~ MARCH 2016
FRIDAY NIGHT GATHERINGS – March 4, 11, 18
Friday nights continue at our house in Nundah (email brisbane@cityonahill.com.au for the address). March 4, March 11, March 18. Come any time from 5pm. Dinner from 6pm. Gathering from 7pm. Kick-on from 8pm. Facebook Event
THE ENGINE ROOM PRAYER – March 9
"Unless the Lord builds the house, those who build it labour in vain." (Psalm 127:1a) The Engine Room is an opportunity to come together each month to earnestly pray that God would build something that lasts in and through City on a Hill: Brisbane.
Our first prayer night will be on Wednesday March 9 from 7-830pm at the Smith's House in Hamilton (email brisbane@cityonahill.com.au for the address).
GOOD FRIDAY NIGHT GATHERING – March 25
Join us as we remember, rejoice and respond to the work of Christ on our behalf this Good Friday. Stay tuned for more details.
GOSPEL COMMUNITY LEADER LAB
God-willing, we will launch a number of Gospel Communities scattered across the City some time in April/May. These are communities of life, love and mission.
If you are interested in learning more about what it means to be a Gospel Community leader, even if you're not ready to lead a group, please join us at our GC Leader Lab.
Sundays from 2-4pm. March 13 – Communities of Life. March 20 – Communities of Love. March 27 – Communities of Mission.
FINANCIAL PARTNERSHIP
We continue to thank God for those who have already begun financially supporting this mission. Would you consider partnering in this way? Whether that is a one-off donation or ongoing support, it can be done via this page: cityonahill.com.au/give – click 'Brisbane' in the drop down menu or you can also find the Brisbane bank account details.
Thankful for your continued support.
Keep trusting Jesus,
Dave.