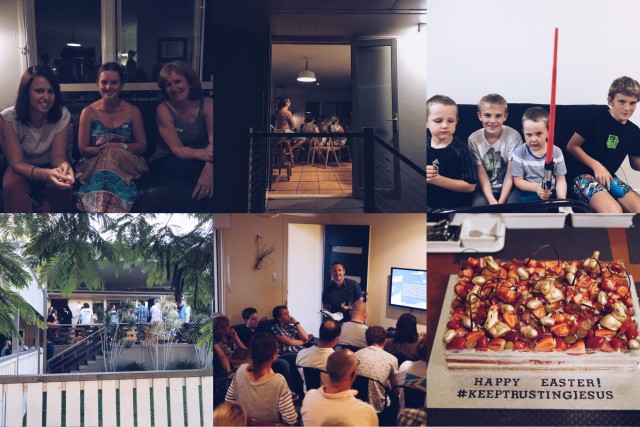 A SOLID AND STURDY FOUNDATION
With a river running through the middle of Brisbane, there are many bridges connecting north and south. I recently stood on Victoria Bridge and could see 32 cranes from that one vantage point. That's a lot of construction, but that's only one vantage point! There are cranes all over the City and indeed the inner suburbs of Brisbane. It's a rapidly growing City tipped to increase from 2.3million to 3million people in the next 5 years!
The presence of these cranes helps to focus our mission. First, there are a lot of people moving into this City, people who need to be introduced to Jesus. Second, there's a sense in which we are very much in a crane phase of our church. The crane matters for a solid and sturdy foundation in building apartments AND in building the church.
We are so thankful to God for the solid and sturdy foundation he is building among us. By the end of March we have seen over 80 different Brisbane people join us at one of our Friday Night Gatherings, with 40-50 people gathering each week. More exciting than the number of people is the depth of relationships being formed, the leaders who are being raised up, and how our community is being grounded in the gospel of Jesus' death and resurrection for sinners. According to Tim Keller, new churches best reach new generations, new residents, and new people groups. God is gathering each of those 'new' people to be part of City on a Hill: Brisbane. We have mature Christians, Christians looking for a home, new Christians, and also people who aren't yet Christian.
To keep up-to-date with all that God is doing among us, please follow our regular updates on Facebook, Instagram and Twitter.
You can also check out our Good Friday Night Gathering HIGHLIGHTS VIDEO
THE MONTH AHEAD ~APRIL 2016
FRIDAY NIGHT GATHERINGS
Friday nights continue at our house in Nundah (email brisbane@cityonahill.com.au for the address). April 8, April 15, April 22, April 29. Coffee from 5:30pm. Dinner from 6pm. Gathering from 7pm. Kick-on from 8:30pm. Facebook Event.
The Lead Pastor of City on a Hill – Guy Mason – will be joining us in Brisbane on Friday April 8. I'm really looking forward to introducing Guy to those he is yet to meet. On the night we will hear more about how Guy came to know Jesus, the story of City on a Hill, the vision ahead, and extended Q&A.
THANK GOD IT'S MONDAY
Work: we spend the majority of our waking hours doing it, yet many of us hardly know why.

For some, work is a chore – an interruption to life, keeping us from what we really want to do. For others, work is life – the place where we find our significance and status. Still others long for work, feeling the restlessness of unemployment or retirement, looking from the outside in on a world at work.

So what's the purpose of work – and how do we do it well?

At City on a Hill we believe God gave us work for a reason – and we want to discover that. Join us throughout April for our new series: 'Thank God It's Monday', where we will explore God's purpose in our work.
THE ENGINE ROOM
"Unless the Lord builds the house, those who build it labour in vain." (Psalm 127:1a) The Engine Room is an opportunity to come together each month to earnestly pray that God would build something that lasts in and through City on a Hill: Brisbane.
After an encouraging time at our first prayer night will be gathering together again on Wednesday April 13 from 730-900pm at Michael + Izzy's House in Hawthorne (email brisbane@cityonahill.com.au for the address).
PRAYER POINTS
Longer Term Venue – we have a team that are currently scouting out options for when we go live with Sunday services later in the year. Pray for wisdom and the Lord to provide.
Gospel Communities – after a fruitful Leaders Lab in March, we are getting ready to begin 4-5 Gospel Communities in May. Pray we'd launch healthy groups, in accessible locations, that will multiply in months to come.
FINANCIAL PARTNERSHIP
We continue to thank God for those who have already begun financially supporting this mission. Would you consider partnering in this way? Whether that is a one-off donation or ongoing support, it can be done via this page: cityonahill.com.au/give – click 'Brisbane' in the drop down menu or you can also find the Brisbane bank account details.
Thankful for your prayerful partnership.
Keep trusting Jesus,
Dave Miers.