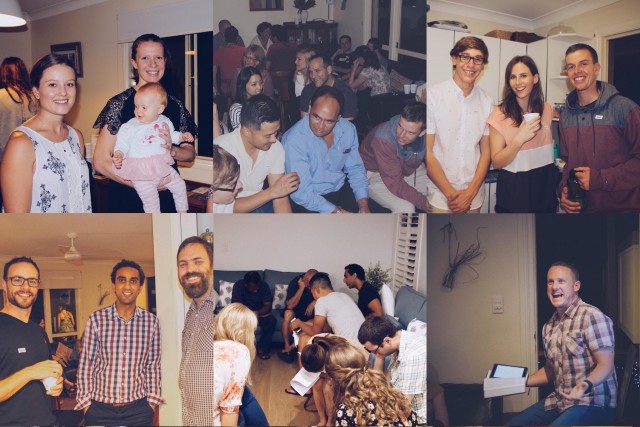 DO YOU KNOW JESUS?
Life is busy. You know that. And I know that. For our family we are busy getting used to new rhythms of life in a new city, and preparing to launch a new church through team gatherings, training events and lots of preparation.
In the midst of the many pressing needs, I've been struck recently by the need to really know Jesus. At City on a Hill we are seeking to do everything under the one banner of 'Knowing Jesus and Making Jesus Known'. Am I deliberately taking time in the chaos of life to simply be with Jesus? As I cultivate relationships with new connections in Brisbane, am I cultivating my relationship with Jesus?
I'm reminded of the confronting interaction Jesus will have on the last day with people who thought they knew him,
"Not everyone who says to me, 'Lord, Lord,' will enter the kingdom of heaven, but the one who does the will of my Father who is in heaven. On that day many will say to me, 'Lord, Lord, did we not prophesy in your name, and cast out demons in your name, and do many mighty works in your name?' And then will I declare to them, 'I never knew you; depart from me, you workers of lawlessness.' (Matthew 7:21-23 ESV)
Our hope is that the Lord will do mighty works through us. But do I know Jesus? And more importantly, am I known by Jesus?
This weekend marks a transition for our City on a Hill: Brisbane team. We are moving our Friday Night Gathering to a local cafe and we are seeking to multiply our team by commencing a new Sunday Morning Gathering in our lounge room. God-willing, our hope is to double our average attendance from 45 to 90 over the next few months.
We will also be commencing, along with the rest of City on a Hill, a new teaching series The Revolution of Man (CHECK OUT THE TRAILER). It will be a 16-week journey exploring Mark's account of the most notable historical figure this world has ever seen. From Jerusalem then to our world today, Jesus continues to revolutionise cities, nations, and the epicentre of human existence – our heart, mind and soul.
My prayer is that through this season God would continue to revolutionise my heart and the hearts of those the Lord is gathering to our team. It really is a timely word if we are serious about knowing Jesus. And likewise a wonderful opportunity to be making Jesus known to those who don't yet know him.
The majority of people receiving these monthly updates are not in Brisbane. I'm really thankful for each of you and your prayerful partnership. Would you join me in praying for a Jesus-centred revolution in me, my family, our team, and our city? As I send this out, I'm praying the same for you. Please let me know other ways that I can be in prayer for you.
THE MONTH AHEAD ~ MAY 2016
FRIDAY NIGHT GATHERINGS
We are meeting at Primal Pantry Nundah (cnr Aspinall St + Station St) from 6:15pm. Really great food (salads, meatballs, wraps, frittata, vegetarian options), drinks (tea, coffee, smoothies) and desserts available. We want to be a blessing to Primal Pantry who are kindly opening their cafe for us, so don't be stingy! FACEBOOK EVENT
SUNDAY MORNING GATHERINGS
We are meeting at our house in Nundah (email brisbane@cityonahill.com.au for the address) from 10:30am. Coffee will be available from 10am and City Kids check-in will open at 10:15am. If you can stick around for lunch afterwards, please bring something to share. FACEBOOK EVENT
THE ENGINE ROOM
"Unless the Lord builds the house, those who build it labour in vain." (Psalm 127:1a) The Engine Room is an opportunity to come together each month to earnestly pray that God would build something that lasts in and through City on a Hill: Brisbane.
We will be gathering together to pray on Thursday May 12 from 730-900pm at Derek + Sue's House in Highgate Hill (email brisbane@cityonahill.com.au for the address). FACEBOOK EVENT.
FINANCIAL PARTNERSHIP
We continue to thank God for those who have already begun financially supporting this mission. Would you consider partnering in this way? Whether that is a one-off donation or ongoing support, it can be done via this page: cityonahill.com.au/give – click 'Brisbane' in the drop down menu or you can also find the Brisbane bank account details.
Thankful for your prayerful partnership.
Keep trusting Jesus,
Dave Miers.