This blog post is written by Brad Konemann from Thirteen Three.
Iranian authorities have made their decision: Pastor Youcef Nadarkhani will be executed for his Christian faith.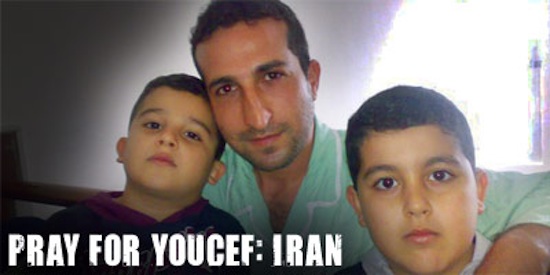 Nadarkhani was arrested in October 2009 and sentenced to death for apostasy. Despite widespread international media coverage and concern, it appears the execution will go ahead.
The White House released this statement concerning Pastor Youcef on Thursday 23 February:
The United States condemns in the strongest possible terms reports that Iranian authorities reaffirmed a death sentence for Iranian Pastor Youcef Nadarkhani for the sole reason of his refusal to recant his Christian faith…The United States renews its calls for people of conscience and governments around the world to reach out to Iranian authorities and demand Pastor Nadarkhani's immediate release.
The execution could be carried out at any time without prior notice.
Please pray for our brother in Christ who continues to stand boldly for the Lord.
Prayer Points
Please pray that God will intervene in this case and bring justice.
Ask the Lord to strengthen Youcef and his family.
Thank the Lord for Youcef's faithfulness to Christ.
Pray that Youcef's testimony will be an encouragement to other believers in Iran to speak the Word of God boldly and fearlessly.