The best book to read is the Bible. Hands down. But I think I've recently discovered the best book, after the Bible, to read. Over the last 10+ years I've been recommending books to teenagers, to help them get to know who Jesus is and what it means to follow him. My top three were the John Dickson trilogy for teenagers: A Sneaking Suspicion; A Hell of a Life; and Hanging in There. Now, don't get me wrong – JD's books still rock the suburbs, seriously. But they are starting to date and we need more good books that will help to introduce young people to the real life that is found only in Jesus.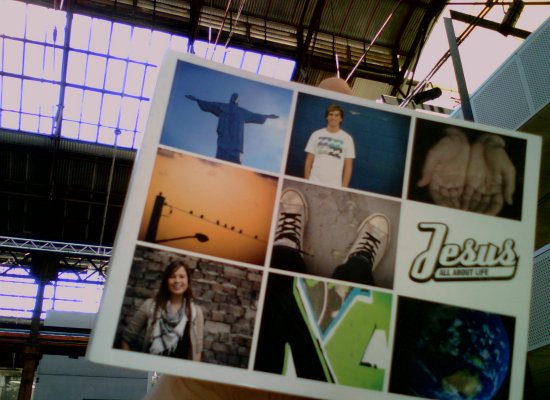 Introducing, Jesus All About Life by Murray Smith. This book is now my number 1 recommendation to teenagers (closely followed by JD's trio). It's brilliant! Murray, one of the Pastor's at Kirkplace Church, is a really smart dude. So he knows his gear. Yet he writes in an informal and teenage friendly style, without trying to be a teenager!
The book clearly presents Jesus, who he is, why he came, his incredible love shown at the cross and why people should follow him. Murray does a great job at answering some tough questions, as well as providing sources for further investigation. He tells some great stories making the book, at times, difficult to put down. Intermingled throughout are short quotes from young people who already follow Jesus.
Not only is the book readable and compelling, but it doesn't look lame. The design is fantastic. Maybe even beautiful. Urban pictures, fonts, textures. It makes giving the book away all the more easier!!
Teens and twenties: Get this book. Read it. Then give it away.
Order it | View other resources | Videos below related to book.
Jesus and the Good stuff
Jesus and the Ugly Bits
Jesus A New Start