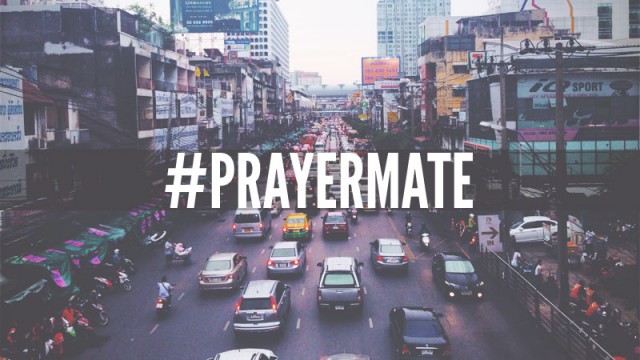 Do you struggle to pray? Most Christians most of the time are discontent with their prayer life. I am. I have great habits of regular time reading God's word each day, but have never been as consistent with the frequency and fervency of my prayers. I have learnt from the wisdom of people like D.A. Carson with his 7 Lessons from the School of Prayer, but the best tool to improve my prayer life was downloaded onto my phone at the start of this year.
PrayerMate is an App that featured on my READ + REMEMBER + PRAY resource post in January this year. It's fantastic! I have 4 push notifications that remind me across the day to take time out to pray. The App is brilliant in the way that you can organise different prayer lists and as well as subscribing to external prayer lists.
I recently asked Andy Geers some questions about his app. See below to hear his responses.

1) How did PrayerMate come about? What's your hope for the App? How has it been received?
PrayerMate is an app that was born out of personal necessity – I'm one of those people who is forever saying to people "I'll pray for you!" and then immediately forgetting. I also had an inbox full of prayer newsletters from friends in gospel ministry that I would read once and then never look at again. The aim of PrayerMate is to lend a little help in that area – now when I tell someone I'll pray for them I can immediately add them to my phone and have a little more confidence that I'll actually remember their needs, and I can attach those prayer newsletters to their details in the app as well. I've been blown away by how well its been received and how many people have contacted me to say how it's helped them in their prayer life – it's been great to see how God has taken my little app and used it to bless so many.
2) There are other Prayer apps available, what are the unique features that sets PrayerMate apart?
I haven't really tried many other prayer apps myself, but the feature that most excited me about PrayerMate is the ability to subscribe to automatic updates from all sorts of fantastic Christian organisations, as well as prayer resources such as Operation World and the Anglican "Collect for the Day". I still have so many big plans in this area that have yet to come to fruition, but it certainly really helps me in my own prayer life to be praying more broadly than I otherwise would be. People also seem to really like being able to attach their PDF prayer newsletters to things in the app – I just need to make this process even easier!
3) I've loved using PrayerMate. It's one of the best tools I've used to help my prayer life. However, it's not a silver bullet! Having it on my phone doesn't automatically make me use it. Prayerlessness is a spiritual issue. What advice would you give to Christians to grow in this area? Aside from your PrayerMate, what has helped you to cultivate greater prayerfulness?
I recently read a great little book by Mike Reeves called "Enjoy Your Prayer Life" which started with a good reminder that the Pharisees prayed a lot and yet not in a way that pleased God – they honoured him with their lips but their hearts were far from him. That was a good caution to me that a prayer app isn't the be all and end all – what matters is how our hearts are before the Lord. The book went on to speak of prayer as the truest expression of our faith – if we recognise our dependence on God for all things, then that will naturally begin to overflow in prayer. So really, the best thing we can do to remedy our prayerlessness is just to keep reminding ourselves of the gospel – that we can do nothing in our own strength, but that wonderfully, through Jesus, we have unhindered access to the King of the Universe who loves to hear from his children. Be amazed again at that simple truth, and prayer is sure to follow!
4) One of the excellent features of your App is the ability to subscribe to specific prayer points from your church or Christian organisation. What is the process to get churches/organisations to have their points included?
If your organisation is already publishing prayer points then almost certainly we can find an easy way to get them into the app – just drop me a line using the button inside the app. Otherwise, you can sign up for an account on the PrayerMate Publishing Platform: prayermate.net/publishers which provides a quick way to enter prayer points by copying and pasting from your existing church bulletin or prayer letter.
—–
One of the first Australian Churches to get prayer points onto the App is St Paul's Anglican Church in Chatswood. I asked my friend Sam Low, one of their Ministers, how PrayerMate has been helpful for their church.
We started using prayer mate about three months ago, its been a great way to get our younger generation more engaged with our daily prayer notes which are also printed out. It was really easy to download and start using, the ability to update and add prayer points whenever you are on the internet has enabled us to be more flexible with our planning and more responsive to urgent needs and praise points. Its a great tool for any church or ministry.